Palo Alto All British Car Meet 1998
This was my first visit to an amazing event with more than 150 British cars. Most are sports cars that seem in good enough shape to be driven daily. The great level of participation may be aided by an informal sense of competition among local car clubs as to who can bring the best and most cars of their marque. This is a real feast for the eyes and senses for anyone who loves cars. The event is held the second Sunday of September in the park across El Camino Real from Stanford Shopping Center. Park at the shopping center unless you're bringing a British Car.


The Golden Gate Lotus Club was well represented: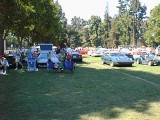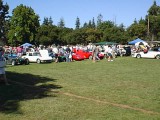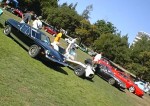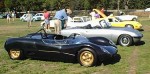 Two Lotus Elevens: (The red one is apparently a replica. The other was BRG with a Le Mans tail and Monterey Historics registration, or was that a 15?)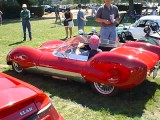 Several Lotus Sevens and replicas with a variety of engines:
Left to right, the engines appear to be a Cosworth BD, Ford crossflow 'Kent', BD, Toyota, and probably a Kent.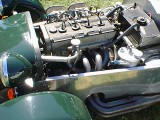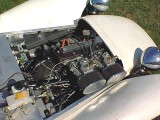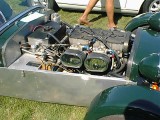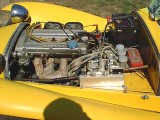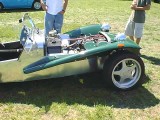 (My interest in Lotus engines is for a Xanthos 23 replica I'd like to build. Ford Motorsports sells new modern racing nodular Iron blocks matching the old 1600 Kent specs. My current plan is to use a fuel-injected Toyota 4AG.)
Here's a black Lotus 23B a chap in Los Gatos bought from original owner and racer John Morton 15 years ago: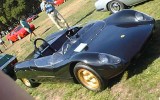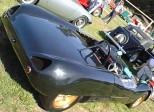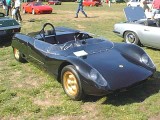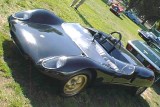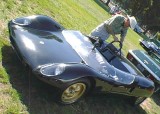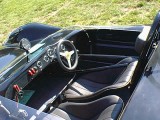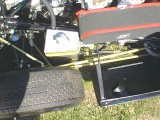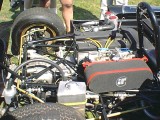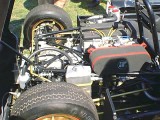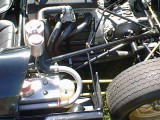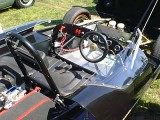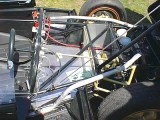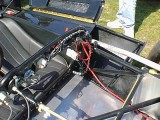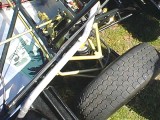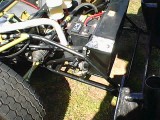 Elans, old an new: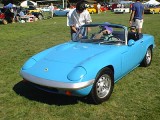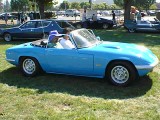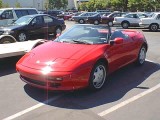 There were several nice original Elans including Ken Gray's (of Dave Bean Engineering) light blue example above, as well as the modern '90s Elans. The old Elan is a beautiful street car and a successful racer. With an innovative and lightweight inverted steel fork and plastic chassis derived from their mid-1960s pure racing cars, the old Elan is a hallmark of Lotus engineering brilliance. The new Elans are distinguished by Lotus cognisceti by adding their internal code name, M100. That the Elan M100 is one of the best-handling front-drive cars anyone's yet made is proof of Lotus Engineering's ongoing chassis engineering expertise. With a turbo Isuzu engine it didn't sell well however, and it was cancelled by Lotus a few years ago. In an unusual twist of fate, rights to the Elan M100 were bought by Korean carmaker Kia who is now selling the car elsewhere, and they may market it in the U.S. as a Kia Elan. The red Lotus Elan M100 above was actually in the Stanford Shopping Center parking lot. Given the relative rarity of new Elans in the U.S. it must belong to someone from the show. Along with Elans M100 at the event, there were contemporary Esprits, older Europas, Eclats, and other modern era cars. No Elises though, which is completely reasonable since the car's not certified for the U.S.
Triumphs: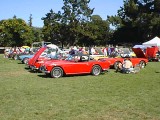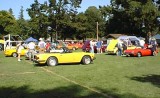 The drivetrain/chassis on the right is from a TR3 in restoration.
Morgans, including this rare 1930 three-wheeled racer: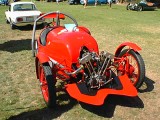 MGs by the dozen:


An army of Range Rovers, some ready for safari: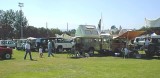 Austin Healys and Bugeye Sprites: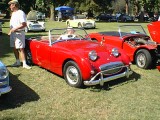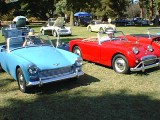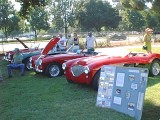 And of course Minis: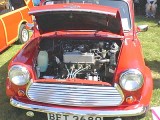 There were also Morrises, Rolls Royces, Bentleys, Aston-Martins, British Fords like Cortinas, Jensens, and probably others. One could easily spend several hours checking them out and still not see everything.
A San Francisco car dealer was showing the Panoz Roadster, a modern, mostly aluminum car produced in Georgia, reminiscent of an Allard or Lotus: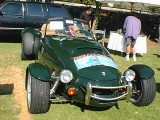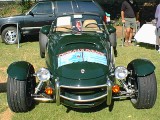 Yes, it's the same cool Panoz dudes who race at Le Mans in a Reynard-designed prototype, own Road Atlanta, Sebring, a winery, resort, Irish pharmaceuticals company, etc.
See also my notes on the 1998 Northern California Kit Car Club event of the same weekend.
Please forgive a few less that perfect images; they're due more to operator newbie mistakes rather than the camera, an Epson PhotoPC 550 set at High (640 x 480, moderate jpeg compression). The camera itself seems to work well. It holds 74 images of this size on each 4MB Solid State Floppy Disk Card (really a flash memory card the size of a matchbook cover).