Concorso Italiano 2002 - Racing Cars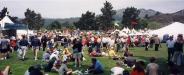 Held yearly at the Quail Lodge Resort in Carmel Valley, Concorso Italiano is a celebration of Italian and other wonderful cars benefitting the Carmel Valley Unified School District. This friendly, popular and often sunny event rounds out the weekend of the Monterey Historic Races and Pebble Beach Concours. Joining hundreds of Ferraris were a good turnout of Alfas, Fiats, Lamborghinis, De Tomasos, featured-marque Maseratis, and more.



















Italian racing cars were the historical feature this year, with assorted dozens taking their honored place on the greens. Quite a few appeared to have come from the Monterey Historic Races just over the hill at Laguna Seca raceway. A few open wheel cars joined the mostly 1955 to 1970 and recent vintage sports cars. Naturally Maseratis and OSCAs were prominent. I must say the 1955-1960's OSCA and Maserati sports racers are really pretty, especially in person where their unique, hand-formed sculpture can be gazed upon longingly. The white and blue single seater is the first De Tomaso ever built, a Formula 2 racer.






Guests at the reviewing stands included Carroll Shelby, Zagato's grandson, Phil Hill, Denise McCluggage, and representatives from Lamborghini. Presenter was former race-car mechanic turned vintage car valuation guru Keith Martin, who did a very nice job as master of ceremonies. Three beautiful Maserati Racers pass under review at the stands while Denise McCluggage describes what it was like to drive them in their heyday. Phil Hill emerges from one of his former Ferrari prototype race cars after a visit to the reviewing stands.






Some prominent show cars included the Ford GT-40 redux, the soon-to-be 1000 horsepower Bugatti Veyron, and the Chrysler Atlantic (not shown). The new GT-40, which has been green-lighted by Ford for production by Roush and Saleen, is better styled than many will give credit for. Yes, it harkens back to various original GT-40s, but it's also got modern shapes and clean, sophisticated surfaces that flatter early Mustangs, most strongly the original 1964 coupe and Shelby side scoop. Stylists love Giugiaro's bold Veyron. It is definitely very original, interesting and evocative of Bugattis past, but I'm not sure I'd call it pretty. It is most significant, perhaps, as a new icon of automotive form.
---
Click on a small image to see the full one.

Racing Cars - Lamborghinis - Ferraris - Alfas Etc. - Corrals >> Next
---
Here is camera and transfer information.