Events

Concorso Italiano 2001 featured Pininfarina Ferrari concept cars. We had the pleasure of hearing Sergio Pininfarina and Piero Ferrari describing these peerless concept cars and production Ferraris. Fabrizio Giugiaro of Ital Design, Tom Tjaarda of Ford, Ghia, and DeTomaso fame, Mr. Bizzarini and other designers and builders also made brief presentations. That's in addition to hundreds of Ferraris, Maseratis, Alfas, Lancias, Lamborghinis, Isos, Abarths, Fiats, and other Italian and non-Italian cars brough by enthusiastic club members.... The Lamborghini Countach was the anniversary car.

Bentley was the featured marque at the 2001 Monterey Historic Races at Laguna Seca. Bentleys from the Brass era through old and modern tourers joined a glorious pride of timeless classic racers and street cars. Another look at the Monterey weekends and other automotive events can be found at Classics.com.


Our 2000 Monterey Weekend for the first time included the Concorso Italiano. This year the Concorso included non-Italian car corrals bringing about 1000 gleaming sports cars and GTs to the Quail Lodge Resort in Carmel Valley. See what 300 Ferraris look like alongside Lamborghinis, Maseratis, Alfa Romeos, Lancias. The Lamborghini Miura was the anniversary car and there were more present than probably ever happened outside the factory.

Arguably the greatest sports and racing car event in the world, the 27th Annual Monterey Historics had unique cars and their drivers on display in the paddock and running at speed on the track. The featured marque this year was Maserati.
OK to make up for the Porsche slam, my pics from the 25th Monterey Historic Races at Laguna Seca, featuring the 50th anniversary of Porsche will go here. Porsche literally drained their museum in Zuffenhausen, including cars not publicly shown there, to celebrate their worldwide anniversary in Monterey. Privateers brought a nearly equally impressive collection of Porsche racers. Mind boggling would best describe it.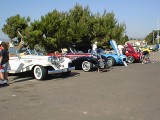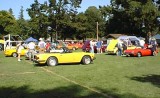 The second weekend of September holds two events for car enthusiasts interested in British cars or Kit cars, or in my case British car replicas. The Northern California Kit Car Club holds its annual event at the San Leandro Marina. Here are my NCKCC 98 notes and pictures. Also held the same weekend is the Palo Alto All British Car Meet in the park across El Camino Real from Stanford Shopping Center. (Park at SSC unless you have a British Car.) The trick is to go to the NCKCC event on Saturday and PABCD on Sunday.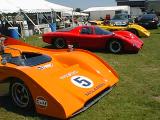 See Can-Am and other Vintage racers at the 1999 Brian Redman International Challenge and my mostly Lotus images from the 1999 Palo Alto All British Car Meet. Also see images from the 2000 Palo Alto All British Car Meet.
Other events and years are linked on the left side menu.